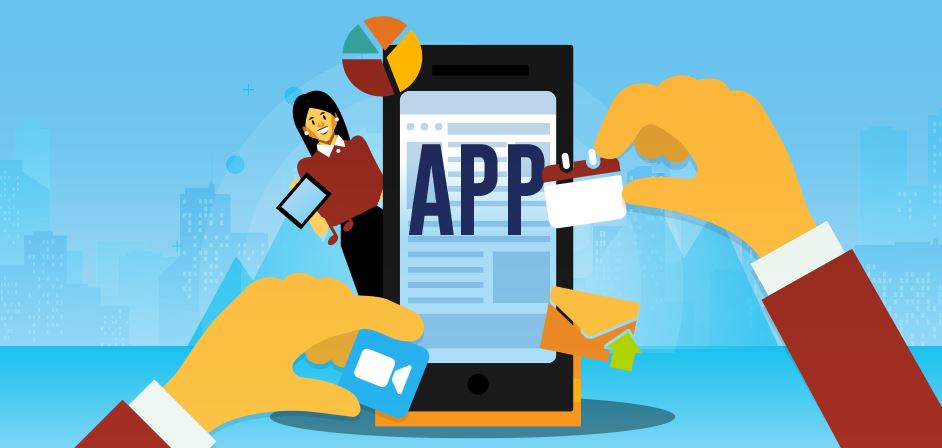 Why Your Business Needs a Mobile App

Posted by Walid Abou-Halloun
Date: Jun 26, 2020 2:00:30 AM
$3.5 trillion by 2021
. Many businesses that are aware of this trend have adopted the use of a business app to grow their business. Many shoppers are becoming more comfortable with placing their orders online. One of the reasons for this trend is the convenience of mobile online shopping provides. One of the industries that are blooming in mobile e-commerce is grocery stores. One out of every five adults is ordering food through a grocery app this year. With these statistics, there's no reason why your business should be left behind. You might think that a mobile app is for big brands only, but this isn't true. If you can't find a reason why you should have a business app read along to discover the many benefits of having one.
1. A Business App Will Grow Your Audience
A business app lets you communicate with existing and potential customers regardless of their location. With the app, your customers can easily find you without having to remember your physical address. An app also eliminates the need to remember your web address since they don't' have to use a search engine. Depending on the functionality of your app, users can access it without using the internet. This means that whoever installs your business app on their phone has access to your information space. One way to grow the number of installations is to offer incentives like discounts or bonuses. Having a website will double your returns if you combine it with an app. Your internet resource serves to attract customers, while the app program helps to retain them. The average American spends
an average of two hours daily
on their mobile phones. It's an added advantage to your enterprise if you have an app. This is because you'll be visible to your customers at all times.
2. Have a Direct Marketing Channel 
You can achieve a lot with your business app depending on its functionality. You can use it to provide general information about your business and your pricing structure. You can also include features for customer accounts, news feeds, and booking forms. Through your app, you can have one of the most significant advantages. You can provide your customers with information that can increase your sales. Information like promotions and special deals can be at the fingertips of your customers through your app. Push notifications will help you get closer to your customers, reminding them of your products and services.
3. Increase Your Sales
A business app is a channel for you to
increase sales and grow profits
. Depending on how large your audience grows the gains you make mark quite a significant increase. The push notifications will motivate your customers to purchase from you. For all the users who have installed your business app, you can contact them directly and give them offers. For example, identify all those close to your store. Invite them to buy from the store and give them special discounts. Geolocation technologies can be very useful in helping you determine your customers' location. Another way to increase your sales is to allow your app to make payment. This feature lets your customers close the deal as soon as they see an item they want to buy. It leaves them with no room to change their mind.
4. Personalise Your Clients' Experiences 
Customers are increasingly becoming inclined to personalised shopping experiences. As they interact with your brand and products, they want to feel valued. An app is a channel you can use to create customised services. For example, track user engagement and use this information to create client-specific recommendations and updates. This feature also helps you create geographic-specific content for your clients. Providing personalised information has high chances of increasing your conversion rates.
5. Improved Customer Engagement
There are no sales without clients, and without communication, it's impossible to maintain clients. Regardless of your industry, your customers need to reach you. There isn't a better way to communicate with your customers than to have a messaging app. In the design of your app, consider having a feature that will
enhance communication
. This will make a huge difference in the way your customers relate with you. It will let you have real-time feedback on products and services. With this information from customers, you'll know what works for them and what doesn't, and what you can do about it.
6. Create a Stronger Brand
Through a business app, customers have the opportunity to learn more about your business. Besides, they're also able to communicate with your brand through regular interaction. The more they become aware of your brand, the more they'll commit to your brand. Once a customer has become loyal, it'll be a lot easier for them to respond to your pitches. An app demonstrates to them why they should stick with you. Your app provides a robust mobile presence. Your customers will always have the
best user experience
. It won't be subject to poor performance and mood changes as is the case with service by human personnel. If you're like most marketers, your app will be a means to make your customer service better. A business app ensures your customers are always with your business, practically. The app doesn't limit when they can make purchases or find out something about your company. If customer satisfaction is a priority to you, create a mobile app for them.
7. Embrace The Age  of Mobile Technology 
A few years ago, much of the technological advancement you see today didn't exist. Most businesses have moved forward in leaps and bounds because they embraced technology. For your business to stay ahead, it's essential that you are flexible to adopt change. Embracing change and using it to your advantage will take your business to the next level. A mobile app will help you see your business as your clients see it, and you can quickly change what's not working to the advantage of your clients.
8. Speed Up Product Innovation
Depending on how you use your business app, you can open up new business dimensions. You can put technology to work in
resolving clients' complaints
and issues. Being successful requires that you become innovative so that you can fulfill the needs of your clients. In the process of creating solutions, you'll come up with new products and services. Think, for example, about the ingestible medical diagnostic devices and smart fridge. They minimise consumer inconveniences by reducing the cognitive load and enhancing the experiences at hand.
9. Optimise Your Business Processes
Business apps play a variety of functions. For example, you can create one for employees' interaction within the team. Through the app, you can manage and monitor business processes, ensuring the smooth flow of data and file exchange. It has become common for businesses to create products for use within the company. Most of them ensure the uninterrupted cooperation between employees, their locations notwithstanding. In communicating with customers, a company app gives you a platform to conduct surveys and run polls. On their end, your customers can report an error on the app. They can also provide you with feedback about your products and services.
10. A Source of Valuable Analytics
A business app, if used correctly, can go a long way in putting you ahead of your competition. The
information you collect
by tracking usage and customer preferences lets you analyse the market trends. A simple example is that through the app, you can monitor the products customers mostly purchase. The time they spend on the app also tells you a lot about similar products they'd like to see. The functions they mostly use on the app will guide you on how to make them friendlier. You can create a better user experience by checking how they interact with the app. Once you take full advantage of your company app, you'll create experiences that your customers can't get anywhere else. Remember that most of your competitors probably have neither an online presence nor mobile apps. In such a case, if you manage to be the first using an app, you'll secure your future position in the industry. The world is competitive, and it's only fair that you take advantage of the opportunities available to grow your business.
Summing It Up
Having a business app can change your business and take it to a different level ahead of the competition. If you didn't know how important a mobile app is, we hope the above factors are worth considering. The main thing around the creation of an app is to come up with one that solves your client's issues. It should also contribute to your company development. Before investing your money in a mobile app for your business, list all the functions you'd like to see. Use the latest technology and respond to changes to embrace innovation. The benefits you derive from having a business app are worth a lot more than the investment you make in creating it. Do you have any question? Just
contact us
and we'll be glad to help you.