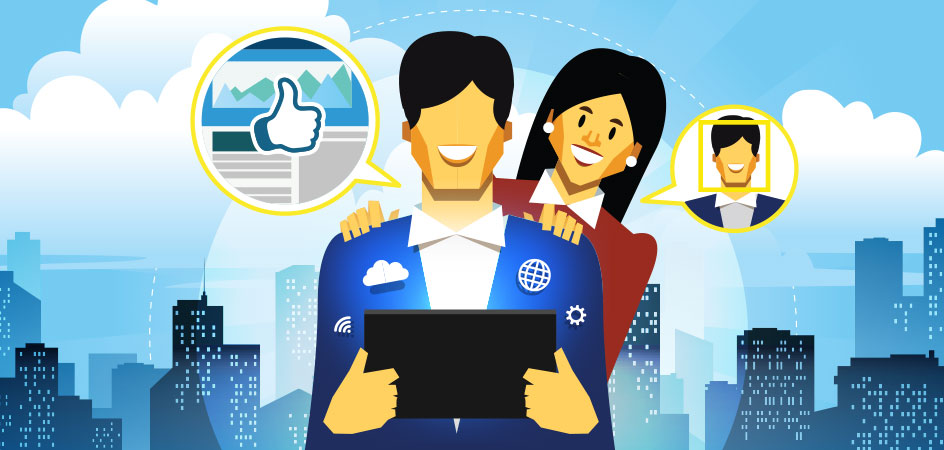 7 Tips for Achieving the Best Possible End-User Experience

Posted by Walid Abou-Halloun
Date: May 12, 2018 10:00:13 AM
Given that nearly 50% of businesses have no web presence at all, building a strong website or an app will put you ahead of half of your competitors.
A digital experience that feels truly unique and intuitive is also very hard to come by. To ensure that your clients and customers have a memorable end-user experience, you need to follow some fundamental design principles.
Web design has changed dramatically in the last decade. With the rise of mobile experience and the overloaded sites of a previous era, users are looking for a streamlined and minimalist experience. With so many notifications and advertisers competing for user attention, the advantages of a smart end-user experience is overwhelming.
If you want to improve the UX on your site or app, follow these eight tips for the best possible end-user experience.
1. Give Them Some Space
For years, users were inundated with videos and music that play as soon as a page loaded. There would be animated banners, contrasting colors, and the dreaded white or yellow on black text bodies.
All of this chaos made something like Google's homepage a shot heard around the internet. Where once a site like Craigslist seemed spartan and low-budget, these sites were all the beginning of a move away from overloading viewers with chaos.
Make sure your site or your app has plenty of white space. Look at other successful apps and sites to see where they're putting buttons and images. Follow the lead of your more successful competitors and let intuition guide your users.
Keep your menu hidden until users need to access it. Once they try to access it, make it front and center without forcing them to stretch the image or to squint. Test everything out on smartphones and tablets before deploying.
Even when you're sharing a lot of information with users, the experience of using your product should be relaxing and simple. Overloading your users will destroy your end-user experience and will send clients packing.
2. Direct Them With Calls-To-Action
A strong call-to-action gets users to do exactly what you want them to do while making it seem like they decided on their own. A call-to-action button should sit atop every page of your site or follow users as they scroll.
This also directs users to get into contact with you, your sales team, or your front desk in just one press. They can be prompted to check out a free e-book you're offering, take advantage of a promotion, or to place their order right away.
Your call-to-action should stand out from your page while also matching the rest of the page elements in style.
Use action verbs that inspire users to engage with the buttons. Whenever possible, offer something for your users. You must show appreciation upon getting someone's attention amid so many other potential stimuli or competitors.
The best end-user experience shows gratitude for every engagement.
3. Eliminate Pop-ups (Unless They Ask For Them)
The pop-up is a dying element of end-user experience. That's because they disrupt the flow of using a website or an app. They're often used to advertise and are usually an obstacle in getting to the content you're looking for.
That doesn't mean that pop-ups have no place at all in any end-user experience. They can be helpful when a user is entering new data, signing up for your services, or needs to add their email address to your mailing list. It keeps them on the page they were on while allowing them to complete a simple task.
Pop-ups for advertising or those that ask users to sign up for your services can do more harm than good. They not only show that you have an outdated idea of how user-experience should go, but they also can be annoying enough to keep users away from your site.
4. Use Images Wisely
The images that appear on your site give your users an idea of what your company is and which services you offer. If you're using a lot of generic stock images, even the most untrained viewers may start to have doubts in their minds. For example; how can a small company with just a storefront office also have access to the large worksite depicted in the photographs?
Your images say a lot about the tone of your business. If you're an upbeat, creative and approachable kind of business, use a variety of lighter colors and models who are smiling. If you're dealing with a high-rolling corporate luxury service, you may use neutral colors with everyone in your photos dressed well and ready for business.
Using stock imagery can be just as expensive as hiring a photographer. Holding a one-day photo session, if planned out well, can allow your business to collect enough real life images to use for several years. High quality and consistent portraits of your staff show important information to your viewers. With the added bonus of not accidentally having the same stock images as your competitors.
When it comes to improving end-user experience, photos can instruct or describe how products are used or who the target audience is. If you're an older company looking to court a young demographic, you need to place younger people in your photographs.
While you might be tempted to use stock imagery, it's better if you can have your own employees model for your images instead. This will set you apart from your competitors making your imagery unique and relatable.
5. Supply Them With Great Content
A great user-experience (UX) rewards users for engaging and viewing a page. It entails having great content that users want to read and share on social media. In this day and age, attracting visitors through content will go a long way to building your brand and developing a relationship with your target audience.
If you don't have a blog set up yet, it's time to start one. Not only does a blog help you rank well in Google Searches through the use of targeted keywords, but it also gives you the added bonus of posting fresh and unique content that helps your customers find the answers that they are looking for. By helping them find solutions to a problem they are having by using your experience, you are building a relationship and showing your company to be the experts.
Add videos to your posts for an extra SEO ranking boost. Adding subtitles to your videos and keeping them under a minute helps them to be shared on social media. Search engines will also be able to crawl through your subtitle tracks allowing you to rank in search queries relevant to the context of the video.
Subtitles also add to the end-user experience by allowing viewers to get the gist of your videos while scrolling through social media. They can watch and read your video without turning off their music or plugging in headphones.
6. Remember Them
For an app or a website, you should give your clients the option to customise their experience. By remembering their preferences, you're not only showing them that you care, but you're also valuing their time by eliminating the options they don't need.
Every customer and client has a handful of things they use any service for. The rest of the images, buttons, or options don't matter to them. They are busy and want a streamlined experience when visiting your website. This goes back to the white space low content argument.
By giving them a little more room to breathe and remembering their preferences, you'll bring them back more frequently. Rather than being overwhelming, they will enjoy visiting your website and purchasing your product or services because of the simplicity of the experience.
Tip: An "auto-login" option is the least you should offer your clients.
7. Make It Mobile
Given that mobile usage has solidly surpassed desktop browser use, more of your customers will be accessing your products and services through mobile devices. Make sure that you've designed your site or app form a "mobile-first" perspective.
Integrate your end-user experience with other apps or other elements common to their smartphones and you'll increase engagement.
Eliminate the need for stretching and scaling pages and images. Serve a different version of your site for smaller screens if need be. Your goal is to cater to where your customers are, not where they were. It is not unusual for businesses to create a slightly different website for mobile devices that are simplified and optimised for the mobile experience.
Let users opt-in to receive text notifications about promotions, their products, or delivery information. This will help increase engagement. Also, by allowing an opt-out method, you won't be disrupting users more than they're comfortable with.
Keep things as simple as possible on mobile. Just because your IT infrastructure is complicated doesn't mean that your site has to be. Use big, bold, colourful buttons with minimal background to keep users engaged and maintain a modern look.
End-User Experience Puts Users First
While you may have eye-catching designs to take over your users' entire attention span through their devices, you need to keep your aims simple and focused. The future of UX gives users more space and more control.
If they want more, give them the option. Otherwise, keep it simple.
For more tips on how to improve UX for your company, contact us and stay on top of the latest trends.