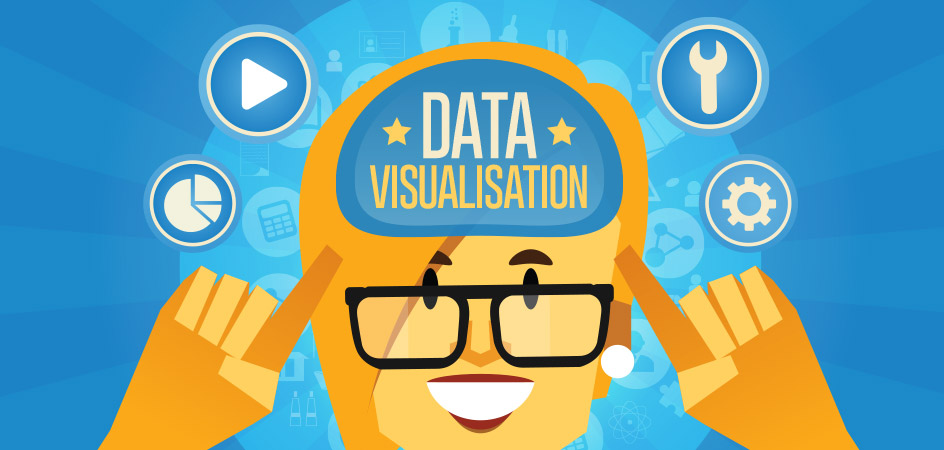 10 Data Visualisation Tools To Make Your Work Easier

Posted by Walid Abou-Halloun
Date: May 26, 2018 5:29:28 AM
Business-related information as well as consumer data are becoming increasingly accessible due to the ever-evolving data collection methods we have today. Simultaneously, artificial intelligence is inching closer and closer to its quest for accuracy in data visualisation.
These tools have become very helpful for businesses now, however, without the ability to get the right information to the right people, the entire process becomes pointless.
Thanks to cutting-edge technology, data visualisation tools have made it possible to take large amounts of data and turn it into sort of a colorful children's book for business professionals.
In practical terms, these tools give us the ability to turn large datasets into easily understandable infographics, charts, and videos.
We have compiled the top data visualisation tools you should definitely check out.
10Best Data Visualisation Tools
We judged each one based on the following criteria:
Ability to process and visually displaydata
Customer reviews,
Compatibility withthe most common database solutions
Based on these, the following data visualisation tools are considered to be the best-of-the-best:
Tableau
Tableau is very popular because of the fact that it is very simple to operate, which makes it great for people that don't have a lot of training with data visualisation tools.
This tool makes it possible for people to easily create data visualisations out of very large datasets.
With Tableau, users can integrate advanced database solutions like Amazon AWS, Teradata, SAP, and Hadoop, just to name a few. Tableau is also capable of handling a wide variety of artificial intelligence and machine learning applications.
This allows users to create visual displays effortlessly with charts, graphs, and infographics.
FusionCharts Suite XT
FusionCharts Suite XT allows the creation of animated flash charts that are both interactive and data-driven.
With this tool, users can create an intricate visual 2D or 3D layout, using just about any style visual components such as; line, column, bar, pie, donut, etc.
FusionCharts Suite XT is compatible with every scripting language like ColdFusion, ASP, Ruby on Rails, PHP, NET, and JHP, just to name a few.
Infogram
Infogram incorporates powerful drag-and-drop features that allow users to create infographics, charts, and reports with ease.
It also allows data to be imported from Google Analytics, Google Drive, One Drive, Dropbox, and more.
Infogram also has integrated images and icons, which allows you to deck out your reports into stunning presentations.
Datawrapper
Datawrapper is used by tons of IT personnel. In fact, Twitter is one platform that relies on Datawrapper to analyse their data, as well as The Washington Street Journal, Buzzfeed, and many other famous brands.
One of the reasons so many businesses depend on Datawrapper is because of its user-friendliness. You can use this tool with no previous experience and knowledge on coding.
With a few clicks and copy-pasting of data, users can create stunning presentations that are both responsive and easy to read. Datawrapper is fast, interactive, and customisable, which makes it great for your brand to be able to stand out during presentations.
QlikView
QlikView is unique because it has the ability to automatically recognise and manipulate datasets on its own. It also gives users the option of embedding their charts and visualisations so they can come back to and monitor over time.
This is great because it provides a way to monitor changes within an organisation. QlikView also gives users the option of embedding simple objects and web mash-ups, along with other sophisticated enterprise applications.
Simply put, it can automatically associate relationships within a dataset without any pre-configuration by the user.
While this makes it easier, users must still be quite skilled, as QlikView requires a proficiency in default SQL, and QlikView's own proprietary query language to operate with full functionality.
This tool also has an onboard programming environment that you will have access to, and an OEM partner network that you can take advantage of.
Klipfolio
Klipfolio is a completely cloud-based BI application that allows users to create real-time data visualisations and dashboard compositions out of any given datasets.
This is way better than having to rely on periodical regression models, as it allows users to share across multiple devices. More importantly, it gives businesses visual insight into their most important data.
Klipfolio has the ability to connect to Google Analytics, Twitter, and other sales and marketing tools like Mixpanel and Oracle Sales Cloud, among others.
Using this tool, you can look up with your own data source as well through the use of RESTful API.
IBM Watson Analytics
IBM Watson Analytics is a fully customisable and easy-to-learn analytics platform that combines early artificial intelligence with machine learning to create a truly intuitive data science and data visualisation tool.
One reason why so many users like IBM Watson Analytics is the simple UI that allows newbies to connect with a multitude of well-known business connectors like Eventbrite, Paypal, SurveyMonkey, Twitter, etc.
Users can easily create decision trees and other easily readable data visualisations out of information attained from all major social media platforms.
IBM Watson Analytics can also analyse data from blogs, videos, comments, and forums easily, and is compatible with and able to query a large number of databases including MySQL, PostgreSQL, Compose, Microsoft Azure, and more.
Sisense V7
Sisense V7 allows users to create data visualisations that answer their business needs. With it, users can create charts that work together with features to bring business data to life.
Create, manage, and share dashboards that bring you closer to your business, your customers, and your full business potential. Sisense allows you to choose and customise which widgets you want in your dashboard, and other dashboards that people share with you.
Sisense has more features known to be among the best data visualisation tools available today. It also offers a full line of video tutorials, that teach you how to use and master the software.
Microsoft Power BI
Microsoft Power BI is a powerful data visualisation tool that gives your business an easy way to get the answers they need to succeed.
It is considered one of the best data visualisation tools available for businesses because it allows you to create data visualisations out of your data within minutes.
With Microsoft Power BI, you are able to connect to hundreds of data sources and create stunning reports that are intuitive and informative very quickly.
Simplify data prep, create ad hoc analysis, and allow your team to view and customise them individually on multiple devices.
Plot.ly
With collaboration servers that are available on premises, or in Cloud, Plot.ly allows you to create, share, and edit data into informative visualisations.
With Plot.ly, users can build out graphics with no coding, showcase their skills, share, and collaborate with others easily, and more.
Plot.ly allows you to create, edit, and design maps and charts that will give you the insights you need to set your company above the competition.
Final Thoughts
The BI and Analytics markets are expected to grow from $18.3 billion to $22.8 billion by 2020 according to this Gartner press release.
Briefly, this growth is due to the fact that tools that visualise data give business professionals quick access to information that can make profits for them, or help them know their customers better.
With fresh insights into the best tools out there, businesses can better understand their customers, profit margin, and other factors that can help transform big data into reaching the business' full potential.
Follow our blog to always be in the loop on the latest IT trends.